Wooden Gates and Timber gate design.
Supplied and Installed Daylesford to Melbourne, Delivered Australia Wide.
Feature Wooden Gates
Our Feature Wooden Gates or Timber Gates are built with traditional deep mortise and tenon joints, wood gate construction cut out of the substantial 85x65mm frames to ensure your timber gate remains in good condition for many years. While the mortise and tenon joint has been used in wooden gate construction for hundreds of years, we have the added advantage of modern epoxy resins to make our wooden gate joints rock solid.
Our Premium Merbau wooden gates are oiled or laquered so the beauty of the wood is on display. The finish does need maintaining before every second spring. Our standard wooden gate range are made from engineered Kiln dried treated pine and are pink primed in readiness for the topcoats.
The timber gates below all feature a heavy wooden frame, with crosses in either the top or bottom section, whose function was to stop the wooden gate going out of square. While no longer strucurally necessary today because of the modern epoxy glue we use in our timber gate manufacture, they are a traditional feature of the Victorian or Edwardian timber gate. Lining boards are set into the frame before the wooden gate is glued up, making for a solid and sturdy timber gate.
Ball bearing strap hinges take the weight of these solid timber gates, and a brass (or chrome) ring latch or simple D latch controls access. These timber gates are suitable to use with our automatic openers and can be set up with a deadlock and intercom opening.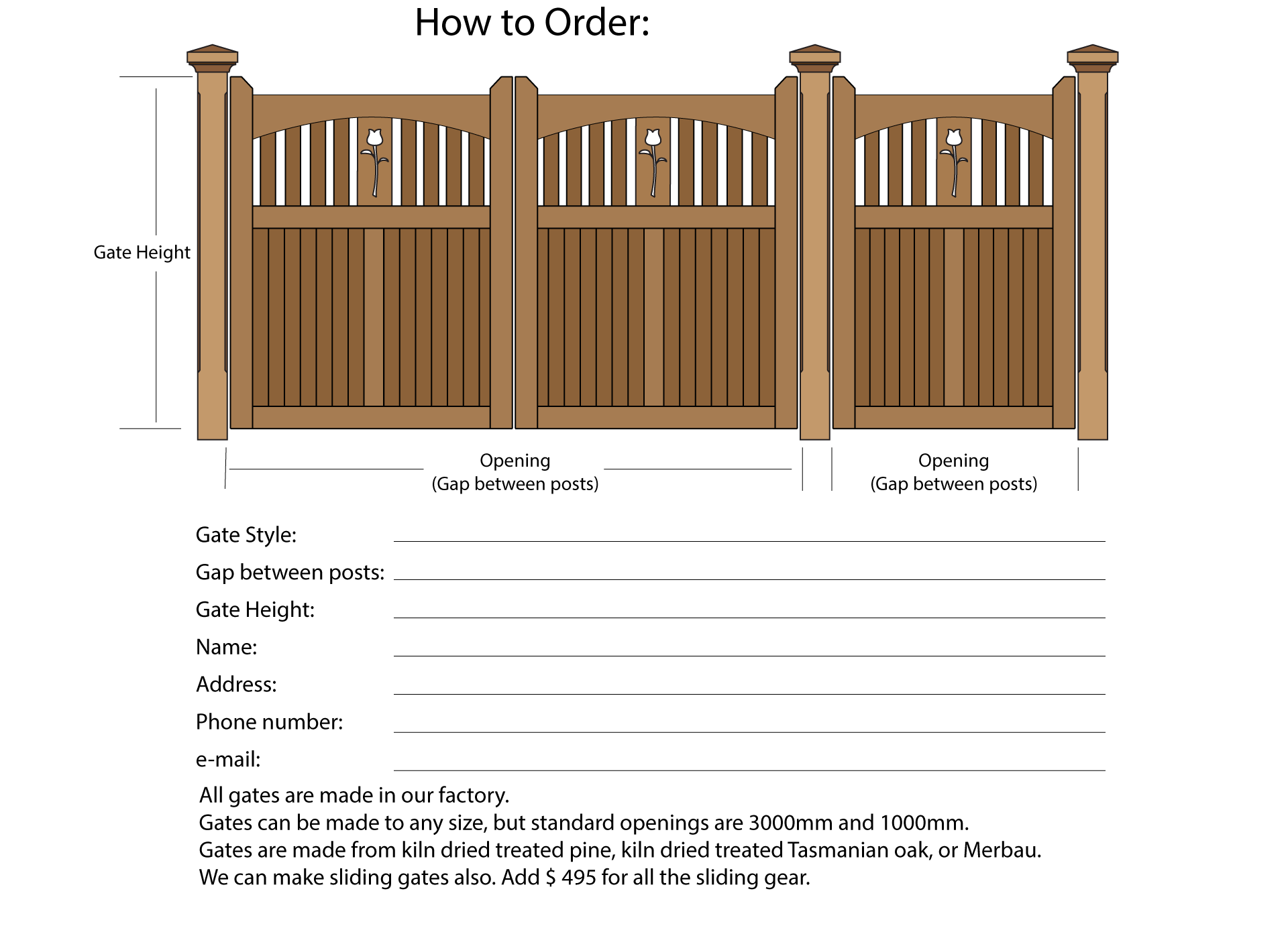 Gate Size


1000mm
gap between posts

3000mm
Gap between Posts
Profiled Gate Post 120x120mm Cypress
Feature gates to 1200mm high
KD Treated pine primed $ 1100
Kd Treated Tasmanian Oak $ 1200
Merbau $ 1350
KD Treated pine primed $ 2750
Kd Treated Tasmanian Oak $ 3000
Merbau $ 3375
$ 135
Feature gates to 1600mm high
Kd treated pine primed $ 1200
Kd Treated Tasmanian Oak $1300
Merbau $1450
KD Treated pine primed $ 3000
Kd Treated Tasmanian Oak $ 3250
Merbau $ 3625
$ 145
Feature gates to 2000mm high
KD Treated pine primed $ 1300
Kd Treated Tasmanian Oak $ 1400
Merbau $ 1550
KD Treated pine primed $ 3250
Kd Treated Tasmanian Oak $ 3500
Merbau $ 3875
$ 145
Picket Gates with Steel Frame to 1200mm high
$ 700
$ 1450
$ 135
Picket Gates with Steel Frame to 1600mm high
$ 800
$ 1650
$ 145
Picket gates with steel frame to 2000mm high
$ 900
$ 1800
$ 145
You may order gates for any size gate opening, as we custom make your gate. Larger sizes will be charged on a pro-rata basis.
Lead time is approx. 3 weeks. Pay by bank transfer, card, cheque or cash. 1/2 deposit, balance upon delivery.
Delivery Melbourne $ 60
Delivery Sydney, Adelaide,Brisbane, Country Victoria $ 75 per gate leaf
Delivery elsewhere in Australia $ 110 per gate leaf
Ask about latches, posts, letterboxes and other fence and gate materials.
GATE MOTORS: CLICK HERE Add automatic gate motors to your driveway entrance.
To Place an order, ring 0403 816660 or e-mail: enquire@resurrection.com.au